Last night was the long awaited 12-12-12 Benefit Concert for Hurricane Sandy Relief and I have to say I was seriously shocked by just how long the concert ran! It went on for nearly six hours with seventeen different performers gracing the stage to raise money for victims of the super storm. The show brought in about $30 million in ticket sales alone. The concert's website is still taking donations and offering select signed show memorable items like guitars and posters up for auction.
There were a ton of humorous and serious points as the night ran on. Some of the highlights of the show were New Jersey natives Bruce Springsteen and Bon Jovi starting off the concert by singing together. Members of Nirvana performed with Paul McCartney of The Beatles, who took the late Kurt Cobain's place. Chris Martin of Coldplay performed an acoustic version of "Viva La Vida" and couldn't resist joking to the crowd by saying that, "I know you really wanted One Direction, but it's way past their bedtime." Aww come on Chris, that's just not nice!
I'm not sure how those who watched the concert felt about Adam Sandler's parody version of "Hallelujah" entitled "Screw Ya Sandy". And of course Kanye West stunned viewers by wearing a leather kilt over leather leggings. Also, who invited Kanye? He didn't really match the rest of the line up, but he sure proved that he was no lack of hit songs to perform! Alicia Keys wrapped up the concert by singing "Empire State of Mind" and was surprisingly the only female performer of the night. BUT WHERE WAS JAY-Z? …That's my question.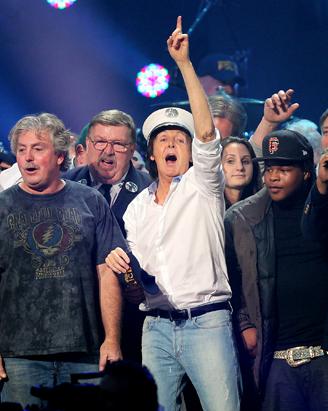 If you didn't tune in last night to watch the concert I would highly suggest searching the internet for clips of the different performances – I promise you won't be disappointed. Then let us know over on our Twitter and Facebook what you thought of the show and if you had a favorite performer!
Ashley hails from Long Island and has a degree in English & Communications from Pace University. She's a huge book nerd, which you'll be able to tell from her habit of always carrying a novel and her future career aspirations: working at a publishing company or as a young adult librarian. Until then you can follow her continually blogging about awesome artists, TV shows, movies and more.